This is a Recipe on How to make Strawberry Cobbler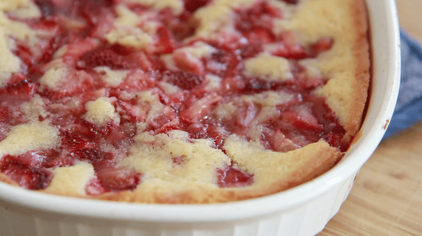 ____Ingredients____
4-5 cups fresh strawberries, sliced in quarters
1/4 cup granulated sugar
4 teaspoons cornstarch
4 teaspoons cold water
1/2 cup brown sugar
1/2 cup quick cooking oats
1/3 cup all purpose flour
1/4 cup butter, softened
____Instructions_______
Combine strawberries and sugar in a medium saucepan. Let sit for 30 minutes with no heat. When time is up, stir strawberries and sugar then turn heat to medium for about 5 minutes. Combine cornstarch and cold water, making sure cornstarch is completely dissolved. Add cornstarch mixture to strawberries. Continue to heat until strawberries start to boil, stirring occasionally. Remove from heat.
Make the topping-combine remaining ingredients using a pastry blender, until all combined and mixture is crumbly.
Spoon strawberries into 4 small ramekins, top with crumb mixture. Place ramekins on a baking sheet (lined with parchment paper or a silicone baking mat.) Bake in a 350 degree oven for 25 minutes, until bubbly. Let sit 10 minutes before serving warm.
Enjoy!!!