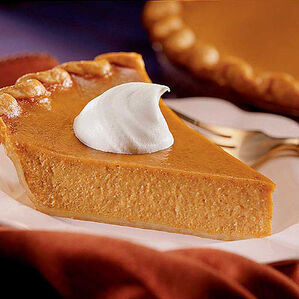 Ingredients
Pie Crust:
1 store-bought or homemade pie crust
Pumpkin Pie Filling:
1 cup light brown sugar
1 tablespoon all-purpose flour
½ teaspoon salt
1 teaspoon ground cinnamon
1 teaspoon ground ginger
½ teaspoon ground nutmeg
⅛ teaspoon ground cloves
3 large eggs, lightly beaten
1 (15-ounce) can pumpkin puree
1 and ¼ cups evaporated milk
Instructions
To prepare the pie crust:
Preheat oven to 400°F.
Prepare the pie crust by rolling the dough out to 12-inches in diameter. Next, carefully transfer the dough to a 9-inch pie plate (make sure it's at least 1 and ½ inches deep), gently fit it into the pie plate, trim any excess dough, and flute the edges. Line the pie dough with parchment paper or foil, making sure to cover the bottom and fit it snuggly in the corners and up the sides, then fill with pie weights (dried beans or dry rice work well too).
Bake the pie crust at 400°F for 12-15 minutes. Remove from the oven and remove the parchment paper (or foil) and pie weights. Return the pie crust to the oven and bake for an additional 5 minutes. Remove from the oven and set aside to cool.
To prepare the filling:
In a large mixing bowl, whisk together the brown sugar, flour, salt, cinnamon, ginger, nutmeg, and cloves until well combined. In a separate mixing bowl, whisk together the eggs, pumpkin puree and evaporated milk until well combined. Pour the wet ingredients into the dry ingredients and mix together until fully combined.
To make the pumpkin pie:
Pour the pumpkin pie filling into the partially baked pie crust. Return to the oven and bake at 400°F for 45-50 minutes, or until the center is almost set (it should be a little wobbly). Remove from the oven and transfer to a wire rack for 2-3 hours to cool completely. Cover tightly and refrigerate for several hours or overnight.
Notes
Cover the edges of the pie crust with a pie crust shield as needed to prevent them from over browning. 
Pie crust may be made 2-3 days in advance, wrap tightly and refrigerate until ready to use. The pumpkin pie filling may also be made up to one day in advance, cover tightly and refrigerate until ready to use.
Prep time does not include cooling time.