Here is a Recipe for: Oatmeal Raisin Cookies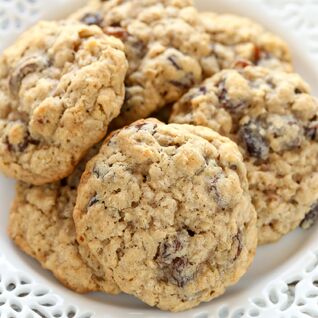 Prep Time: 15 mins
Cook Time: 11 mins
Total Time: 2 hr 30 mins
Course: Dessert
Servings: 24 cookies
Calories: 110 cal
Ingredients
1/2 cup unsalted butter , softened to room temperature
1/2 cup packed brown sugar
1/4 cup granulated sugar
1 large egg
2 teaspoons milk
2 teaspoons vanilla
2/3 cups all-purpose flour , plus 1-2 extra tablespoons if needed
1 teaspoon cinnamon
1/4 teaspoon nutmeg
1/2 teaspoon baking soda
1/4 teaspoon salt
1 and 3/4 cups oatmeal , old fashioned or large flake, not quick or instant oats)
2/3 cup raisins
Instructions
In a large bowl using a stand or hand-held electric mixer, cream together the butter and sugars on medium speed until light & fluffy. Add in the egg, milk & vanilla and continue beating until combined.
In a separate medium sized bowl, whisk together the flour, cinnamon, nutmeg, baking soda and salt. Add the flour mixture to the butter, mixing on low with the electric mixer until combined. Turn of the mixer and scrape down the sides of the bowl with a large rubber spatula or wooden spoon, then add in the oats and mix on low speed until incorporated. Gently stir in the raisins with your wooden spoon or rubber spatula. If the batter seems extremely sticky, stir in 1 to 2 more tablespoons flour. 
Using a cookie scoop or tablespoon, form the dough into balls of about 1 to 1.5 tablespoons - I got 24 total - and place on a plate. Cover with plastic wrap and chill dough in the refrigerator for at least 1 hour or up to 48.
When ready to bake, preheat the oven to 350F degrees. Once preheated, remove the cookie dough from the fridge and place balls 2 inches apart on a cookie sheet lined with parchment paper or a silicone baking mat. Bake for 11-13 minutes, or until the tops are just set. Allow to cool on the cookie sheet for 10 minutes, then transfer to a wire rack to continue cooling.
Enjoy!!!