Here is a recipe for Frozen Banana Yogurt Bites.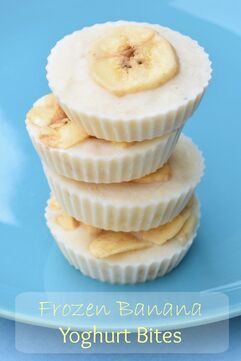 Ingredients
1 large ripe banana
 150g Yogurt of your choice (we used natural yogurt)
 Handful of dried banana chips or Frozen slices of banana
Method
Lay out approximately 12 cupcake cases or silicone muffin cups on a small baking sheet or tray (this will need to fit in your freezer, so it may be worth checking it for size before you start).
Peel the banana and pop it onto a plate.  Mash up with a fork until most of the lumps have gone.  Young children might find this step easier to do with a potato masher if you have one.
Tip the mashed banana into a bowl and dollop in the yogurt.  Whisk together until well combined.
Using a spoon, dollop some yogurt and banana mixture into the bottom of each cake case until all the yogurt has gone.  Top with the banana chips or Frozen Slices of Banana.  We topped half  of ours with whole ones and half with broken pieces, I think both ways looked great!
Enjoy!!!