This is a recipe for cheese-stuffed shells.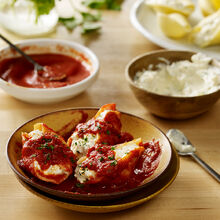 PREP TIME
25 MINUTES
COOK TIME
45 MINUTES
SERVINGS
8
Ingredients
1  jar RAGÚ® Tomato Garlic & Onion Sauce
2  lbs. Ricotta cheese
2  cups shredded Mozzarella cheese, (about 8 oz.)
1/4  cup grated Parmesan cheese
3  eggs
1  Tbsp. finely chopped fresh parsley leaves
1/8  tsp. ground black pepper
1  package (12 oz.) jumbo shells pasta , cooked and drained,
Instructions
1. Preheat oven to 350°F. Evenly spread 1 cup sauce in 13 x 9-inch baking pan; set aside.
2. Combine cheeses, eggs, parsley and pepper in large bowl. Fill shells with cheese mixture, then arrange in baking pan. Evenly top with remaining sauce. Bake 45 minutes or until sauce is bubbling.
Enjoy!!!