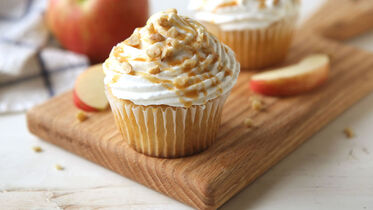 This is a easy apple spiced cupcakes stuffed with an apple pie filling,(Yields: 14 cupcakes)
_____Ingredients______
Spiced Apple Cupcakes
1 1/2 cups all-purpose flour
1 tsp baking powder
1 1/2 tsp ground cinnamon
1/4 tsp apple pie spice {or substitute with a pinch of each of these spices: nutmeg, ground ginger, ground cloves}
1/2 tsp salt
1/2 cup unsalted butter, melted
1 cup sugar
2 large eggs, room temperature
1 tsp vanilla extract
1/3 cup buttermilk (or combine 1/3 cup milk + 1 teaspoon white vinegar and let sit for 5 minutes)
1/4 cup Greek yogurt - I used non-fat
Apple Pie Filling
2 medium sized apples, peeled, cored and diced
2 Tbsp unsalted butter
1/4 cup brown sugar
lemon juice from a quarter lemon
1/2 Tbsp cinnamon
1/4 tsp apple pie spice {or substitute with a pinch of each of these spices: nutmeg, ground ginger, ground cloves}
______Instructions_______
For the cupcakes:
Preheat oven to 350 degrees Fahrenheit. Line cupcake pan with paper cups.
In a large bowl, whisk together the flour, baking powder, ground cinnamon, apple pie spice, and salt.
In a large microwave-safe bowl, melt butter in the microwave in 20 second increments until melted. Whisk in sugar. Mix in eggs one at a time until well mixed. Pour in vanilla, buttermilk, and yogurt until combined. Slowly stir in dry ingredients until no lumps remain. Batter will be thick.
Divide batter among cupcake liners, filling each ⅔ full.
Bake in preheated oven for about 17 to 19 minutes or when a toothpick inserted into center comes out clean. Remove from oven and allow to cool in muffin tin several minutes before transferring to a wire rack. Allow to cool completely before filling.
Make the apple pie filling:
In a medium saucepan, place chopped apples, butter, brown sugar, lemon juice, cinnamon, and apple pie spice together. Cook over medium heat for about 5 to 8 minutes, until apples are tender. Stir occasionally. Allow mixture to cool.
Assembly:
Using a small knife, cut and remove a circle in the center of each cupcake.
Fill with apple filling.
Pour a layer of salted caramel over the apples.Then add optional toppings if desired
Here is a link to some salted caramel buttercream frosting if you want to add that to your cupcakes it makes them delish!
Link: http://queentigers.wikia.com/wiki/Salted_Caramel_Buttercream_recipe